oilseed pretreatment
Oilseed pretreatment usually means the working procedures of detaching the impurities out of the oil material to make the oilseeds in the best condition before pressing in order to extract the most oil out. It is the first and most vital step during the whole set of
oil mill plant
. This is the part where the seeds are procured, cleaned, flaked, and cooked so that the oil extraction process can be carried out in a more efficient manner, so that the final output or the extracted oil is of the highest quality.
Extraneous material should first be removed from the harvested crop seed by screening. This is particularly important to ensure that materials such as small stones are removed prior to crushing and extraction. The seed should also be passed over a magnet to remove metal pieces.
These impurities here generally refer to the following items :
The organic impurities: such as the stem leaf, cord, chemical fibers, velveteen and their seeds;
The inorganic impurities: such as soil, dinas and metal, about oil-bearing impurities.
Oilseed Pretreatment Workshop View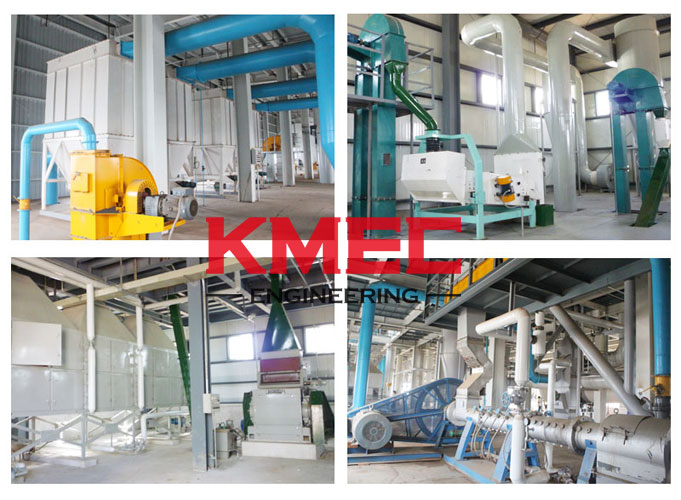 Oilseed Pretreatment Process
Oilseeds should be well pretreated and cleaned before
pressing
, and the quality of pretreatment effects the life performance, safety of machine directly as well as the oil output rate. Unit operations for preparation of seeds for oil extraction vary slightly depending on the physical properties and oil content, however, most oilseeds go through the process of selecting/cleaning, shelling and separating, crushing and flaking, roasting.
Flow Chart of Oilseed Pretreatment



Pretreatment Process and Related Seed Processing Equipment
Selecting/ Cleaning
Oilseeds need to be cleaned to remove plant stems, mud and sand, stones and metals, leaves and foreign material before being extracted. Oilseeds without careful selecting will speed up the wearings of the accessories, and can even lead to damage of the machine. Foreign materials are typically separated out by a vibrating sieve, however, some oilseeds such as peanuts may contain stones which are similar in size to the seeds. Hence, they cannot be separated by screening. Seeds need to be separated from stones by destoner. Magnetic devices remove metal contaminants from oilseeds, and hullers are used to de-hull of oilseed shells like cottonseed and peanuts, but also in crushing oilseeds such as soybeans.
Shelling and Separating
Oil-bearing materials with shells such as groundnuts, sunflower seed, cotton seed, and teaseeds, should be separated from their outer husk or shell prior to the oil extraction process, and shells and kernels should be pressed separately. Hulls will reduce the total oil yield by absorbing or retaining oil in the pressed oil cakes. What's more, wax and color compounds present in the hulls end up in the extracted oil, which are not desirable in edible oils and need to be removed during the refining process. Dehulling can also be called shelling or decorticating. The dehulling prcess is necessary and has got a series advantages, it increases oil production efficiency, capacity of the extraction equipment and reduces wear in the expeller, reduces fiber and increases protein content of the meal.
Crushing and Flaking
Oil output rate would be much higher after crushing and flaking. Most oilseeds are crushed to facilitate hull removal, heating, drying and flaking before oil extracting. For some seeds like rape seed, coen germ, however, do not need the crushing process as they are already sufficiently small enough. Crushers are used for oilseed size reduction. Oilseeds also can be flaked prior to solvent extraction. Flaking ruptures seed cellular structure and increases surface area for increased contact between solvent and seed during the solvent extraction process. Typical flake thickness is in the range of 0.01-0.015 inch or 0.25-0.37 mm. Oil from the cracked or flaked seeds should be extracted as quickly as possible (within 24 hours) to minimize meal and oil quality deterioration.
Roasting
The key factor of getting high oil output rate is roasting or cooking, so it is said "70% lies in roasting, and 30% lies in pressing". Water content and temperature of raw material should be controlled before pressing. It is suggested and requested that the user should master roasting technology in order to achieve idea economic benefits. Roasting / Cooking also gives seeds proper elasticity for efficient pressing. Cooking at high temperature is not necessary for sunflower seeds. Cracked and dehulled soybeans are conditioned/tempered by increasing the temperature to 149 degrees Fahrenheit and adjusting the moisture by using live steam. Conditioning is done in rotating drums with an internal steam coil. Tempering improves flaking performance and extraction efficiency.
Unit Oilseed Pretreatment Methods for Soybeans, Canola and Sunflower Seeds
1. Soybean Seeds: Bean drying,Tempering, Cleaning, Cracking, Dehulling, Conditioning, Flaking, Oil Extracting
2. Canola Seeds: Cleaning, Pre-heating,Flaking, Conditioning,Pressing, Solvent Extraction

3. Sunflower Seeds: Cleaning, Dehulling(optional), Pre-heating, Flaking, Pressing, Solvent Extraction

Advantages of Seed Cleaning before Pressing
Heated shelling features means to reduce energy consumption.
Twin dehulling process which raises the shelling ratio to up to 85% with oil residue in hulls reduced to below 1.5%.
Large-volume silos to facilitate adjustments to production capacity.
Can produce oil cake to different grades and various protein levels which are adjustable to meet special requirements. Soybean cake can also be milled.
Oilseeds can be expanded to make subsequent oilseed processing easier.
Complete pre-treatment system can be controlled automatically.
Seed Processing Equipment
During the process of oilseed pretreatment, a series of seed processing equipment are necessary, such as cleaning sieve, crusher, dehuller, flaker, cooker, screw extruder, dryer and the like. Some seeds require additional preparation beyond cleaning. Soybeans, for example, are de-hulled, heated, cracked or flaked, and sometimes extruded before entering the press. Equipment used for these types of operations can generally be obtained from most press manufacturers. A producer should identify the oilseeds that they are likely to process in order to determine exactly what equipment will be needed. KMEC can always meet your cleaning and pretreatment needs!
TIPS
: Flaked soybean moisture is 11%~13%, the best moisture for solvent extraction is 8%~10%.
All the seed processing equipment are designed to adjust to the different oil seeds and the client exact requirements. KMEC have rich experience of manufacturing and exporting large selection of various seed processing machinery and equipment for different using purposes and our clients are very satisfied with our seed processing equipment. We give the best service and we offer the most competitive prices in seed processing filed.
If you prefer to know more info about our seed processing equipment, please don't hesitate to contact us, we are always at your service!
Releded oilseed pretreatment Machinery