mini automatic flour plant
Mini Automatic Flour Plant is a small plant of producing flour of every kind. No need of man power it is fully automatic and does all the process of changing grains to flour. If someone asks you to choose between a small tool and big tool and both do the same thing then it obvious you will choose the small one, because it is easy to handle, covers less space. These Automatic Flour Plant mills are used for all kind of flours extraction from grains. These are used to extract flour of wheat, corn, rice, sorghum, beans and different grains. Flour extracted from the grains by these Mini Automatic Flour Plant mills is fine and is without any impurity and unwanted material

2 Types Mini Automatic Flour Plants for You to Choose
This mini automatic flour plant is of two types the first one is 10T per day and the other one is 20T per day. Both are small machine units but it completes all the functions of a large flour plant. The only thing that varies is the quantity as 20TPD produces 20 ton per day and 10TPD produces 10 ton per day. But it is sufficient and very useful for small industry. These are small in size but perform all the function of big machine. You will get all whatever you get from the large and big flour mill, the only difference is about the quantity, but the quantity doesn't matters when you get the quality as quality is always above the quantity. This is small machine but complete all the needs.
10T Automatic Flour Plant mill
This is the first type of Automatic Flour Plant mill. It is smaller than the 20T, it produces 10T (10 Ton) of flour per day. It also features with removing of dust, stones and all other unwanted impurities from the grains.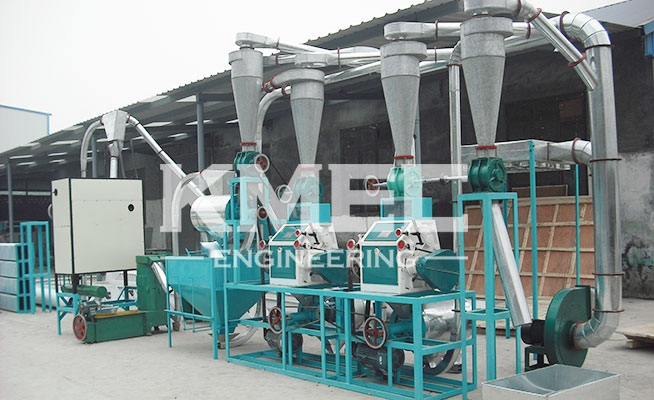 20T Automatic Flour Plant mill
This 20T little scale flour processing set is composed with cutting edge innovative procedure. It produces 20 ton flour per day and has high yield for best quality flour of all kind. It is an entire set from cleaning, washing, wheat isolating, processing to pressing. It is often mostly used to extract flour of wheat, corn, rice, sorghum, beans and different grains.
In both type of small scale milling plants it adopts sifter, scourer, destoners and dampering machine although the quantity of these varies in both
Advantages of the Mini Automatic Flour Plant mills
In today's modern world the first thing we notice before buying any product is the advantage of the products and main thing that comes in everyone's mind is the investment on the product. So there is no need to worry about all these things. This small scale flour mills will fulfill all your needs and will keep you on the profit side. Here are the advantages of these Automatic Flour Plant mills
Low investment
Easy to use
Best design and appearance
Long service time
Easy to install and use
Small workplace to install, no need of large space