oil mill plant
KMEC offers a wide range of
oil extraction machine
, solutions and services tailored to customers' unique oil processing needs to enable successful
edible oil production
. Whether it's rapeseed, sunflower seeds, cottonseed or soybean, to obtain consistently high-quality edible oils from oil crops, all the oil production process steps interlinks smoothly and be problem free. We are the oil mill supplier worldwide that can always provide
edible oil processing
with integrated solutions that embrace your entire manufacturing process!
Compelete Solution for Turnkey Oil Mill Plant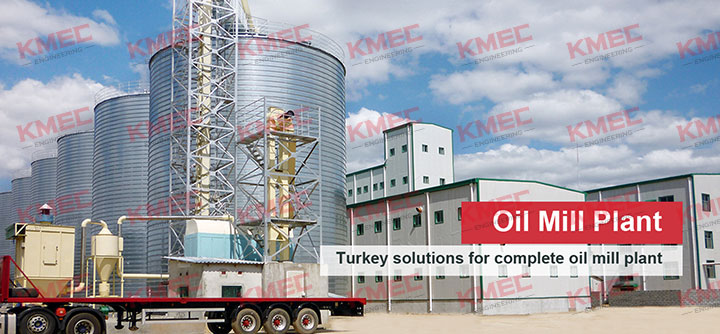 We undertake pre-treatment, pressing, extraction, oil refining and the auxiliary projects, the services include civil engineering, process design, auto-control, layout plan and the downstream processing. The equipments have ever been exported to the USA, Germany, Mexico, Japan, Southeast Asia, Africa and many other countries and regions.
Edible Oil Production Process and Related Oil Mill Machinery
Main Steps of Edible Oil Production Process


Oilseed Pretretment, Oil Pressing, Solvent Extraction and Edible Oil Refinery are the 4 maine steps of the edible oil production. We will show you detail below!

Oilseed pretreatment refers to a series working steps of getting rid of impurities from the oil bearing materials, which can make the oilseeds in the best condition before being pressed and extracted and is able to make the most oil out. These impurities here generally refer to the following two items: The organic impurities: such as the stem leaf, cord, chemical fibers, velveteen and their seeds; The inorganic impurities: such as soil, metal, about oil-bearing impurities.

Pretreatment is the part where the seeds are procured, cleaned, flaked, and cooked so that the oil extraction process can be carried out in a more efficient manner, so that the final output or the extracted oil is of the highest quality.
Workshop View: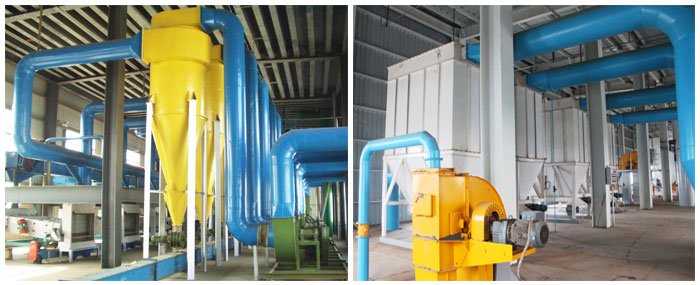 Pretreatment Process Flowchart

Oil Mill Machinery Used in the Pretreatment Process
During the process of oilseed pretreatment, a series of seed processing equipment are necessary, such as cleaning sieve, crusher, dehuller, flaking machine, cooker, screw extruder, dryer and the like.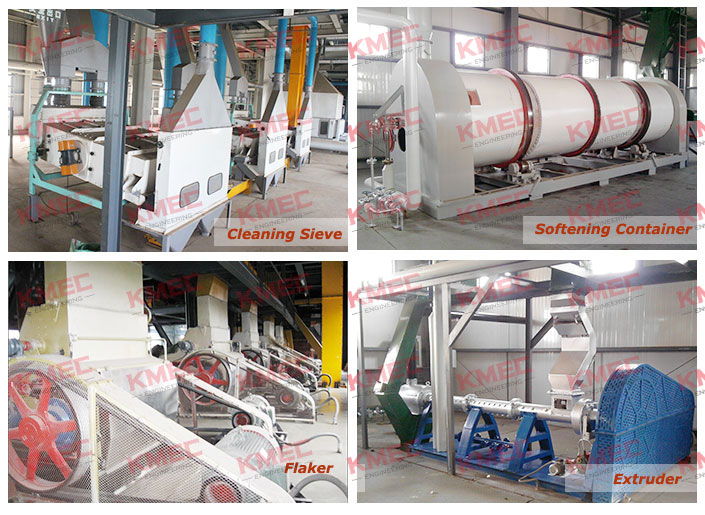 Oil Pressing or you can call it expeller pressing, is a traditional oil extraction method that has been used for centuries. The pressing process is chemical-free, it is a mechanical method for extracting oil from vegetables, nuts and seeds by physics pressure. Oil pressing ranges in capacity from less than 1 ton to over 50 tons per day, and today the expeller press is universally used for the continuous mechanical extraction of oil regardless of the size of the operation. Generally speaking, there are two processing systems for oil pressing, one is Pre-pressing (combination with solvent extraction) and the other is Full-pressing (a true mechanical oil extraction process). (Related Post: How to start mustard oil business ?)

Usually the mechanical pressing method provides yields of only 65-70% of the oil, and 80% is considered very good. Most large commercial operations use a mild pressing operation to extract 60 to 70% of the oil, while the remainder is solvent-extracted. (Market Research for Starting Edible Oil Mill Plant in Pakistan )
Workshop View: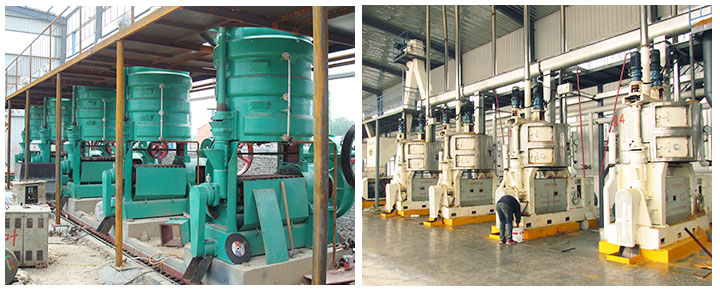 4 Advantages of Expeller Pressing
Low initial investment cost;
Higher-value edible oil and meal;
Less complex operation;
Versatile to process many kinds of oil seeds.
Related Oil Mill Machinery in Pressing Process
Oil press machine (oil expeller press) is the soul equipment of the pressing process, it can be divided into small oil press and big oil press according to its capacity, it can also be put into screw oil press and hydraulic oil press as to its working principle. In comparison with the hydraulic oil press, the screw type expeller press has a great deal advantages, For example, better adaptability, flexible production, high quality of the oil, light color, pure flavor, simple technology, and few supporting equipments etc.

Solvent extraction is a chemical method to extract oil out from vegetables, oilseeds and nuts by solvent. Hexane-based processes have been in commercial operation for a long time. Industrial oil processing for the edible oil generally involves the solvent extraction step which may or may not be preceded by pressing. For such processes, it is possible to achieve oil yields in excess of 95% with a solvent recovery of over 95% which in compare to 60 to 70% oil yield by mechanical oil pressing method.
Workshop View: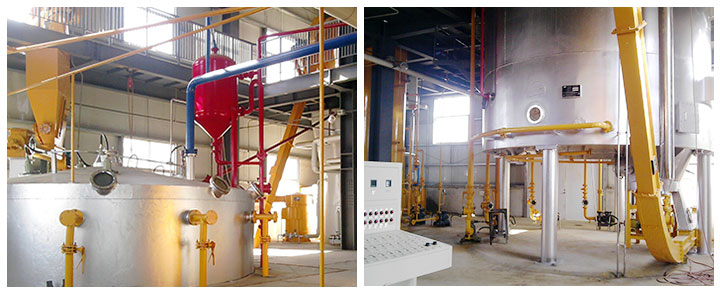 4 Advantages of KMEC Solvent Extraction Plant
Simple in structure with stable performance;
Additional horizontal grid plate prevents the miscella from flowing back into the material cell to ensure the best extraction effect;
The wet meal is discharged by the material discharger which continuously discharges the wet meal onto the wet meal conveyor. This avoids meal bridging, un-uniform wet meal discharging and extends the serviceable life of the wet meal conveyor.
Composed of pre-extraction, extraction and draining sections. There is material turnover in the process of extraction to make the extraction uniform and thorough. Special self-cell solvent spraying ensures the best effect during extraction.
Oil Mill Machinery Related in Solvent Extraction Process
A series oil mill machinery will be used in the solvent extraction factory, such as evaporator, condensor, filters, rotary extractor, desolventizer, here we just to name a few.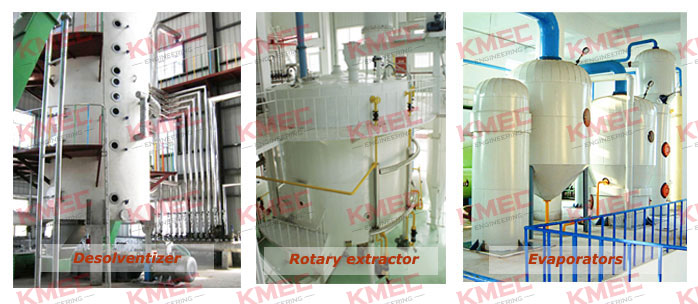 The edible oil refinery can refine almost all types of oils. The refined oil quality depends on the type of crude oil and refinery process and technic. Edible oil refinery can be carried out by either chemical refining (batch or continuous refining) or physical refining, and the main equipment involved are neutralizer, bleacher, deodorizer, heat exchanger, press filters etc.

Edible oil can be refined by either a chemical or a physical refining process. The decision which process to use depends on the types and qualities of the crude oil to be processed. The process of edible oil refinery generally comprises of Degumming, Neutralization, Bleaching and Deodorization and Winterization. Chemical Refining is the most widely used process for vegetable oils, especially seed oils. It is particularly suitable for refining crude seed oils like soybean oil, canola oil, corn oil, cottonseed oil, sunflower oil, safflower oil etc.
Workshop View: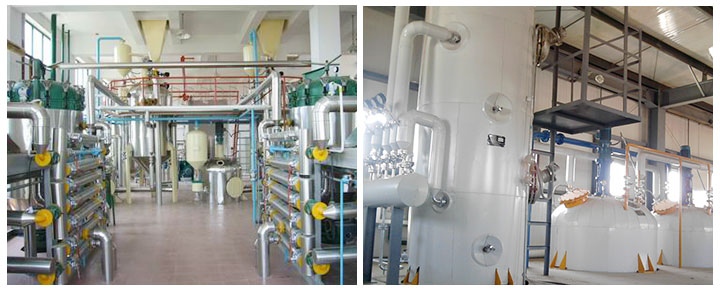 Oil Mill Machinery Related in Refining Process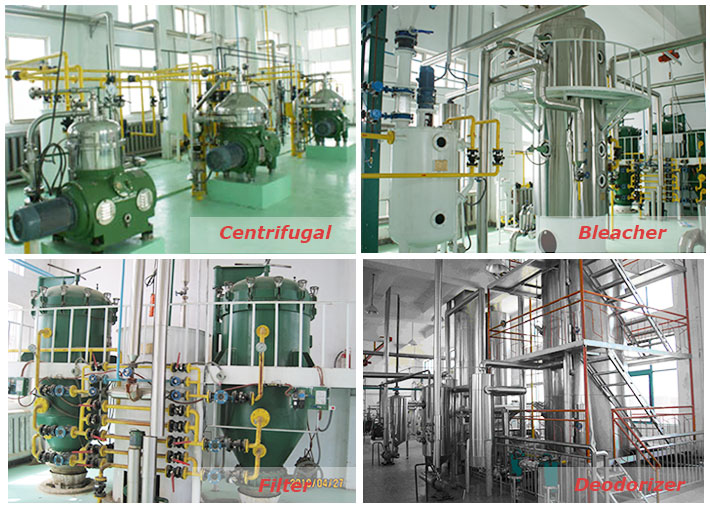 Small Oil Mill Plant
KMEC also deals with smaller capacity oil mill plant business, and we really good at it! We can offer small scale oil pressing and refinery plant from 1TPD TO 20TPD. The small oil mill plant is able to process a great number of vegetable seeds and nuts. It is able to process a great many of vegetable oil seeds, such as soybeans, peanuts, cotton seeds, sunflower seeds, sesame seeds, palm kernel, coconut etc.
The small oil pressing plant is fully mechanically driven. It easily connects a series small oil mill equipment together to realize continuous oil extraction with easier operation and higher rate of oil yield. The small line needs little investment, fewer land space, it is labor saving and has a wide application for various plant seeds!
Small Oil Pressing Line Image

5 Great Advantages of Small Vegetable Oil Pressing Line
Wide application for a great number of vegetable plant seed;
Small investment, fewer land space, but with the complete function of oil processing to get higher oil yield.
Easier to operate, easier to install and commissioning;
Need fewer labor than single oil press machine, with considerable design, it only needs 2~3 persons to running the whole line;
The semi- continuous can avoid the unstable material feeding caused by manual and make the worker safety more under the higher temperature working situation.
Oil refinery is an industrial process where oil is processed and refined into more useful products. Small oil refining plant is designed to process oils with smaller capacity.

In the entire small oil refining plant, the extracted oil will be removed of phospholipids, pigments, off-flavor, free fatty acids, and other impurities. The entire oil refining process comprises Degumming / Neutralization, Bleaching, Deoderization, and Winterization(Optional).
Small Oil Pressing Line Image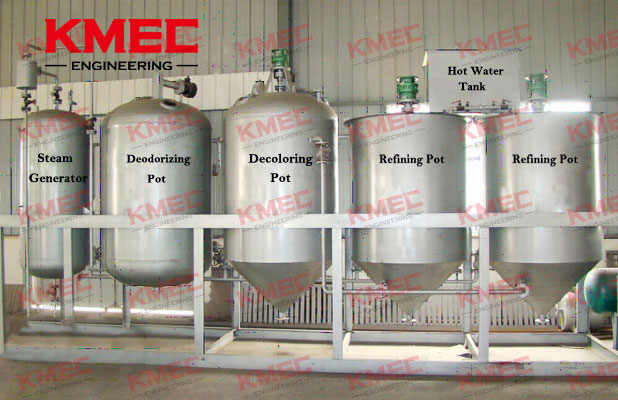 5 Advantages of Small Oil Refinery Line
Wide application for oil bearing seeds.
Change different oils easily.
Less investment but with full refining function.
Easy to install and operate.
Light weight and movable.