medium flour milling plant on turnkey bases
If you have been planning to venture in
flour milling business
, there are a number of factors you should consider before establishing your plant. With your goal set to deliver high-quality and special grade flour, going for a
medium milling plant on turnkey bases
sounds a great idea to start with. While flour is a major recipe in grocery stores and supermarkets, some things to consider when setting up your flour mill include your workers' safety, packaging, pest control and many more.
Setting Up a Medium Scale Flour Milling Plant
KMEC is a manufacturer of complete set steel structured flour mill plant. Designed with a compact structure, is easily installed and operated, requires a low initial investment, and is the first choice for medium and small wheat flour mill plants.
Steel Vertically Constructed Flour Mill Plant
Lots of successful projects have been built and earning profit for our clients from Africa, South America and South East Asia. As an experienced flour milling manufacturer and supplier, we are good at designing complete sets of flour milling plant with different capacities according to customers' need. So far we have successfully exported such a lot of from Africa, South America and South East Asia, etc.
40tpd medium wheat flour milling plant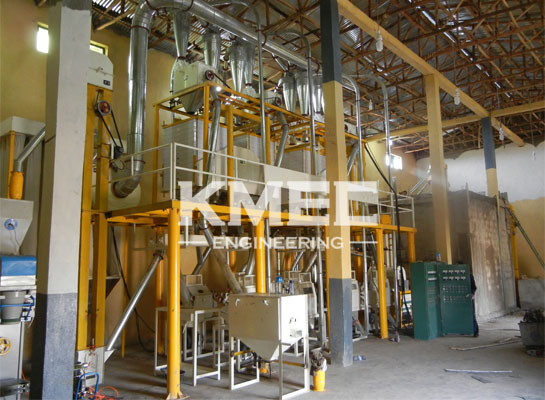 50tpd medium maize flour milling plant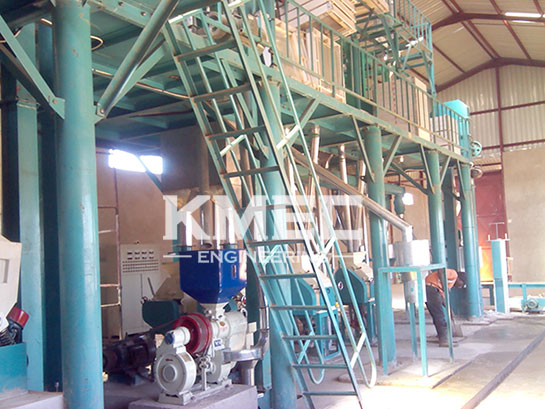 60tpd medium wheat flour milling plant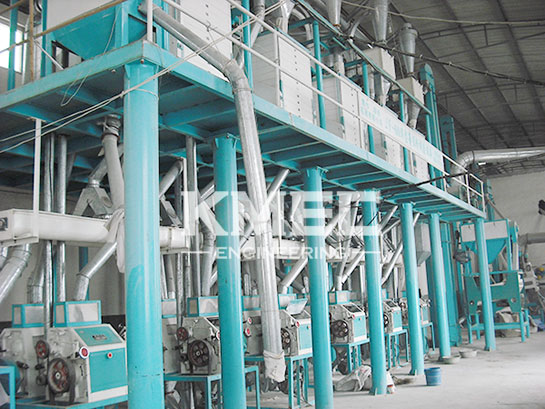 Our medium scale complete flour mill plants are steel structured, easy to installed and operated, requires a low initial investment. Advantages of the steel structure flour milling plant are as follows: sifters are set up on the upper part of the mill. Feed stock passes through the sifters, and slides into the mill instead of being pneumatically transported by a blower. This decreases the power consumption while making it easier to operate the machine.
Let's have a look at some benefits of setting up a medium scale flour milling plant:
Lower Setup Cost: Unlike large-scale flour plant, you can set up a medium flour milling plant with modest capital. This is also an appropriate idea if you have limited space. Operational and maintenance costs are also relatively compared to large-scale flour milling plant. With its simple structure covering a small area, the installation and operation is simple while the performance is tremendous.
Usability: Coming as a complete product, you can start using the medium turnkey flour milling plant immediately on delivery. On purchasing one, you will be trained on operating, daily maintenance procedures, and all the flour processing techniques that are involved.
Saves Energy: With a medium turnkey flour milling plant, you don't have to expect huge electrical bills at the end of every month. It is designed with the latest technology that aims at preserving energy while ensuring that you get the best product at the end of the milling process. Additionally, you can adjust production capacity by turning to a higher or lower voltage.Universal
Products: Expect nothing less with medium flour milling plant other than the fabricated graded flour currently being used in biscuit and bakery industries. Perhaps the only thing that can make your products unique in the market is your packaging. That's why most newcomers in the milling industry are going for the medium flour milling plant on turnkey bases.
Mobility: If you own medium flour milling plant on turnkey bases, shifting your area of production is not a major problem and doesn't require undergoing bureaucratic processes like large-scale flour milling plant. You can conveniently relocate your business to an area where demand for your flour products is higher at any time.
Durability and Warranty: Most credible stores sell medium flour milling plant on turnkey bases with a warranty of at least one year. This is an assurance to their clients that the equipment is professionally made to last long while at peak performance. Should the milling plant become faulty before the stipulated period, you can have it repaired or replaced without additional charges.
Conclusion
If your business idea is to set up a flour milling plant, going for a medium-sized one is better venture. With a significantly smaller capital, you can own a medium-scale milling plant and mint cash with limited space at lower maintenance and operational costs. Who knows if you will soon dominate in the local market?