All About KMEC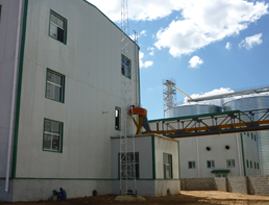 Henan Kingman Mechanical & Electrical Complete Plant Co., Ltd (KMEC) is an export-oriented grain and oil engineering equipment supplier for complete sets of plants and equipment. With nearly 30 years experience in the international market, KMEC knows very well about the requirements of international clients for the project. We can not only supply various engineering equipment but also offer engineering technical services from A TO Z. Our aim is to provide you with the highest standards of quality service by tailoring our complete turn-key solutions to meet your requirements and expectations.
Years of practical experiences help us to organize a strong corporation in accumulation of capital, aptitude, talent, technology, management, etc. High efficiency administrative system and professional experiences accelerate our success. Furthermore, we have senior engineers and professors as our technique consultant team during the whole process of our project. Sophisticated working environment and advanced software make our facility and service much more scientific and professional. We have built long term cooperation with many specialized equipment manufacturers and obtained perfect and steady supply network for supplying products in advanced quality.
Our Product Range
KMEC deals principally in manufacturing and exporting complete plants and equipments. We offer our clients with customized Turnkey Solutions from Evaluation, Design, Project management, Process engineering to procurement Local Manufacturing, Installation, and Commissioning. After-sales Service, Financing. We offer a full range of end-to-end solutions for the design and installation of:
By studying every details and selecting ideal plan of the projects, we ensure you get the best equipment and service.