200A-3 screw expeller press
Model 200A-3 big oil expeller is an ISO9001 approved screw type oil expelling press equipment, which is able to press a great number of oil bearing materials from vegteable seeds and nuts, such as peanut kernel, sesame, cottonseed kernel, soybean, coconut, teaseed, sunflower seed, rapeseed and the like.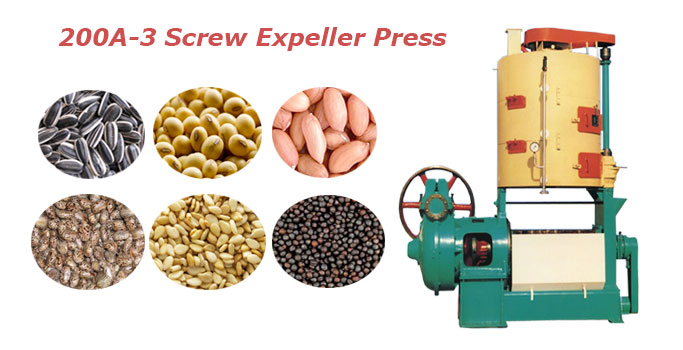 Specifications of the 200A-3 Screw Expeller
| Model | Capacity | Power | Weight | Dimension |
| --- | --- | --- | --- | --- |
| 200A-3 | 8-10T/D | 18.5kw | 5000 kg | 2850×1850×3270mm |
Advantages of the 200A-3 Big Oil Press
Consists of the part main shaft, worms, bars, gears etc.,which is made of advanced alloy steel to be harden. Even working in the condition of high temperature and abrasion day and night, the parts of the oil presses are also durable.
Suitable for steaming and sauting, and can be adjusted to the temperature in accordance with request of various oilseeds in order to get the high-quality oil.
From feeding the oilseed to oil flowing and the cake shaping, the whole process stage is automatic and continous. The oil expeller is very easy to manage, and saving labour.
Technic Datas for Differnet Vegetable Seeds and Nuts
| Seeds and Nuts | Capacity | Oil Yield | Dry Cake Residual Oi |
| --- | --- | --- | --- |
| Peanut | 9000-10000 | 38-45 | 5-6 |
| Soybean | 8000-9000 | 11-14 | 5-6 |
| Cotton seed | 9000-10000 | 30-33 | 5-6 |
| Rape seed | 9000-10000 | 33-38 | 6-7 |
| Sesame seed | 6500-7500 | 42-47 | 7-7.5 |
| Rice bran | 5500-6500 | 10-14 | 7-8 |
| Sunflower seed | 7000-8000 | 22-25 | 8-9.5 |
More Technical Data Information
Inside Diameter of Cooker: φ1220 mm;
Stirring Shaft Speed: 35 rpm;
Steam Pressure: 5~6 kg/cm2;
Diameter of Chamber: Front:φ180 mm; Rear:φ152 mm;
Main Shaft Speed: 8 rpm;
Feeding Shaft Speed: 69 rpm;
Time in Chamber: 2.5 min; Steaming and Roasting Time: 90 min; Max.Work Temperature for Oilseed:125-128 ℃;