impact detacher
Impact detacher is made for removing endosperm contaminants after reducing milling by smooth paint rollers to improve the extraction of flour in flour mills.
The circular machine comprises casting iron housing and also the motor is flanged placed on the housing. A rotary pin plate is bound around the motor axis directly. A set is pin plate combined with housing. The types of materials are given in to the machine in the center and released from the outlet that is around the tangential direction. Meanwhile, intensive impact happens between:
☆ the pins fixed around the motor and also the pins around the housing.
☆ the rotoring plate and also the pins on the housing
☆ the pins fixed on the motor and also the housing.
| | |
| --- | --- |
| | |
Thus some endosperm sheets triggered by smooth roller are launched and be flour some granular semolina is crashed to flour or falls removed from bran. The rotor is dynamically balanced and colored having a transparent food lacquer to avoid rusting. The affecting hooks surfaces are warmth treated to make sure put on resistant.

Impact Detacher System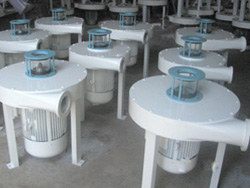 Features of Impact Detacher
☆ Unique design and excellent fabricating.
☆ Newly type machine adopts welded housing.
☆ Dynamically balanced rotor ensures smooth running.
☆ The impacting pins surfaces are heat treated to ensure wear resistant. The surfaces of the impacting pins are special heat treated to ensure wear resistant.
☆ Round pins and square pins for different passages and impact intensities.
☆ High quality motor ensures the machine running normally.
Specifications of Impact Detacher
Model
Capacity (t/h)
Diameter (mm)
Speed (n/min)
Power (kw)
Dimensions (mm)(L×W×H)
KFSLZ-43
1-2
Φ430
2960
3
670×550×570
1.5-2.3
4
KFSLZ-51
2-2.3
Φ510
2960
5.5
770×660×635