grain rotary separator
The grain rotary separator is known as a sieving machine application for fine cleaning, pre cleaning of all of grain, cereal products, pulses, beans and seed products towards the greatest quality standard for example cleaning wheat, grain, corn along with other grains with large, medium and small harmful particles via different sieve plates. The series includes a high yield and low energy consumption cleans effectively and it has low dust pollutants. This machine is double deck system outfitted with rubber ball self-cleaning system to make sure that there's no blockage of fabric within the sieve perforation.
| | |
| --- | --- |
| | |
The number of grain rotary separator is applying special balanced manner to make sure that the entire process of screening ship movement in most directions from the inertial forces happen to be perfectly balanced, the trunk elastic support, so very little vibration, low noise, and also the machine before, throughout, correspondingly, rear is really a circle movement, elliptical motion and reciprocating linear motion and also have a screen surface cleaning device, and therefore yield, screening, high quality, small energy consumption.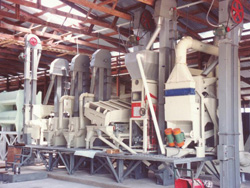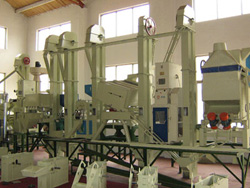 Advantages:
With two types of motion as only and rotary & vibration;
Appropriate for a number of materials with plenty of programs, for example wheat, oil paddy etc. By having an instantly cleaning system, it entirely separates a myriad of harmful particles with three layers of sifters and aspiration structure.